Relations. Beyond Anthropocentrism is a peer-refereed journal of trans-anthropocentric ethics and related inquires. The main aim of the journal is to create a professional interdisciplinary forum in Europe to discuss moral and scientific issues that concern the increasing need of going beyond narrow anthropocentric paradigms in all fields of knowledge. The journal accepts submissions on all topics which promote European research adopting a non-anthropocentric ethical perspective on both interspecific and intraspecific relationships between all life species – humans included – and between these and the abiotic environment.
Announcements
Special Issue: Notice to authors and readers

Notice to authors and readers: due to a technical problem, some of the articles published between July 3rd and 6th were incomplete or incorrect.

Posted: 2018-07-25
More...

Special Issue: 2018: Relations 6:(1-2) special thematic focus announced

Energy Ethics: Emerging Perspectives in a Time of Transition

The special issue focuses on the emergent area of energy ethics, and aims at developing an interdisciplinary dialogue among environmental philosophy and ethics, environmental and energy justice, energy policy, energy humanities, as well as sustainability studies, ecological sciences, and energy engineering.

Editor:
G. Frigo

Posted: 2018-01-27
More...
Vol 6, No 2 (2018): Energy Ethics: Emerging Perspectives in a Time of Transition: PART II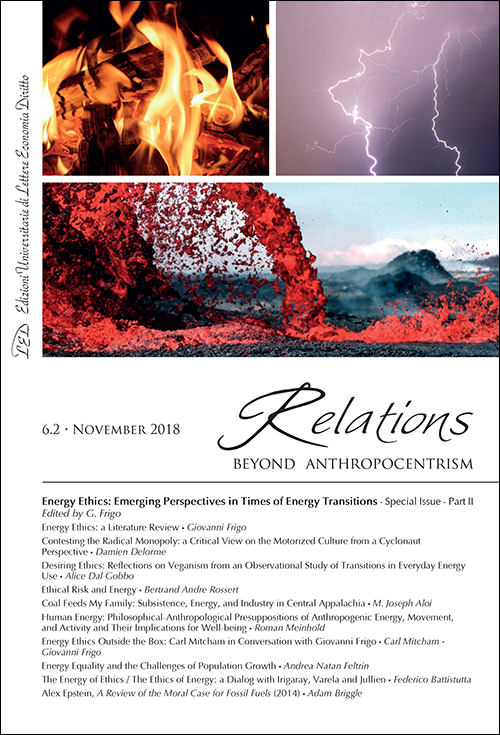 Cover:
1. Anonymous, Fire (Creative Common 0)
Source: https://www.pexels.com/photo/barbecue-blaze-bonfire-burn-220129/
2. Elijah Hiett, Lightning strikes under cloudy storm, California, USA
Source: https://unsplash.com/photos/XLuUCA1NGa4
3. J.D. Griggs. A Pahoeoe lava fountain, Kı¯lauea Volcano, Hawaiian Islands, USA
Source: https://pubs.usgs.gov/dds/dds-80/
(see also: https://en.wikipedia.org/wiki/File:Pahoeoe_fountain_original.jpg)