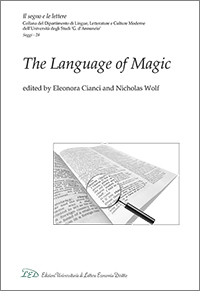 THE LANGUAGE OF MAGIC
Edited by Eleonora Cianci and Nicholas Wolf
Collana "Il Segno e le Lettere"
---
ISBN 978-88-7916-996-7 - 15 x 22 cm - 2022 - pp. 270
€ 36,00 (-15%)

€ 30,60
---
This book contains a selection of fourteen papers presented at
The Language of Magic conference
(2019), organized by the Committee on Charms, Charmers and Charming, part of the
International Society for Folk Narrative Research
(ISFNR). The idea of focusing on the
languages
of magic is connected to the genuine value of verbal charms. They can be considered as
parole
acts that refer to the actual instances of the use of a
langue
, that is, magic. Those speech acts may be oral or written, spoken, whispered, sung, carved on objects, carried on or swallowed. However, they must be expressed in a specific fashion and language to gain the necessary power. Many scholars in the last decades have studied charms in many fields according to different research approaches: anthropology, folklore, history, religious studies, history of science and medicine, literature, philology, and linguistics. In this book, subjects range from the study of magic formulas in the Middle Ages to the modern rituals still practised in northeastern Europe. Studying the power of words in magic reveals its unexpressed potential and unlocks new research paths.
Eleonora Cianci (Università degli Studi 'G. d'Annunzio' di Chieti-Pescara) – Professor of Germanic Philology. Her research interests include Medieval magic and medicine, with focus on Old German charms. She is the author of Incantesimi e benedizioni nella letteratura tedesca medievale (Göppingen, Kümmerle Verlag, 2004).
Nicolas Wolf (New York University) – Historian and data management librarian. His research area covers the social and cultural history of the Irish language, Irish popular religion, and Ireland's population history. He is the author of An Irish- Speaking Island (Madison, The University of Wisconsin Press, 2014).
---
Click on the contents to read the full text