Relations. Beyond Anthropocentrism is a peer-refereed journal of trans-anthropocentric ethics and related inquires. The main aim of the journal is to create a professional interdisciplinary forum in Europe to discuss moral and scientific issues that concern the increasing need of going beyond narrow anthropocentric paradigms in all fields of knowledge. The journal accepts submissions on all topics which promote European research adopting a non-anthropocentric ethical perspective on both interspecific and intraspecific relationships between all life species – humans included – and between these and the abiotic environment.
Announcements
Call for Papers: 2019: Relations 7:(1-2) special thematic focus and call for papers announced

Eremocene: Thinking in a Time of Massive Extinction.>

Currently, planet Earth is facing an astonishing haemorrhage of bio-cultural diversity. Humanity, for the first time in its history, is involved in a mass extinction event, precisely the Sixth Extinction. That is the reason why according to Edward O. Wilson the Anthropocene should be better called the Eremocene, or the Age of Solitude. In this time of loss, Relations. Beyond Anthropocentrism welcomes papers from every discipline dedicated to the phenomenon of extinction. Several are the topics related to this issue. Which sort of event is the extinction? When a species goes extinct? Shall we use the term of bio-proportionality instead of biodiversity? In which way destruction shapes us? Following in the footstep of the Extinction Studies Working Group this Call aims to point out the meaning of co-existence and death into a multispecies community.

Editor:
N. Feltrin

Posted: 2019-01-08
More...

Special Issue: Vol. 6 (2018) Notice to authors and readers

Notice to authors and readers

Posted: 2018-07-25
More...
Vol 6, No 2 (2018): Energy Ethics: Emerging Perspectives in a Time of Transition: PART II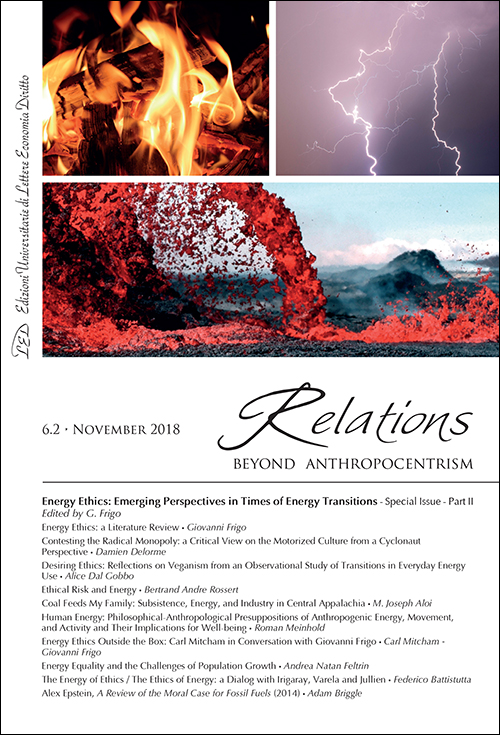 Cover:
1. Anonymous, Fire (Creative Common 0)
Source: https://www.pexels.com/photo/barbecue-blaze-bonfire-burn-220129/
2. Elijah Hiett, Lightning strikes under cloudy storm, California, USA
Source: https://unsplash.com/photos/XLuUCA1NGa4
3. J.D. Griggs. A Pahoeoe lava fountain, Kı¯lauea Volcano, Hawaiian Islands, USA
Source: https://pubs.usgs.gov/dds/dds-80/
(see also: https://en.wikipedia.org/wiki/File:Pahoeoe_fountain_original.jpg)