Relations. Beyond Anthropocentrism is a peer-refereed journal of trans-anthropocentric ethics and related inquires. The main aim of the journal is to create a professional interdisciplinary forum in Europe to discuss moral and scientific issues that concern the increasing need of going beyond narrow anthropocentric paradigms in all fields of knowledge. The journal accepts submissions on all topics which promote European research adopting a non-anthropocentric ethical perspective on both interspecific and intraspecific relationships between all life species – humans included – and between these and the abiotic environment.
Announcements
Next Issue: Vol. 7 (2019) – No 1-2 - The Respect estended to Animals. The Animal Ethics of Tom Regan. Proceedings of a conference held in Firenze, 20 February 2018

Forthcoming
Posted: 2020-05-05

Call for Papers: Vol. 8 (2020) – No 1-2 – Animal Ethics History: the Protagonists and the Different Approaches to our Relationships with the Other Sentient Beings

Deadline for paper submission: 31 August 2020
Notification of paper acceptance: 15 September 2020
Request for revision based on peer review: 15 October 2020
Deadline for revised version submission: 15 November 2020
Publication: January 2021

Posted: 2019-12-22
More...
Vol 6, No 2 (2018): Energy Ethics: Emerging Perspectives in a Time of Transition: PART II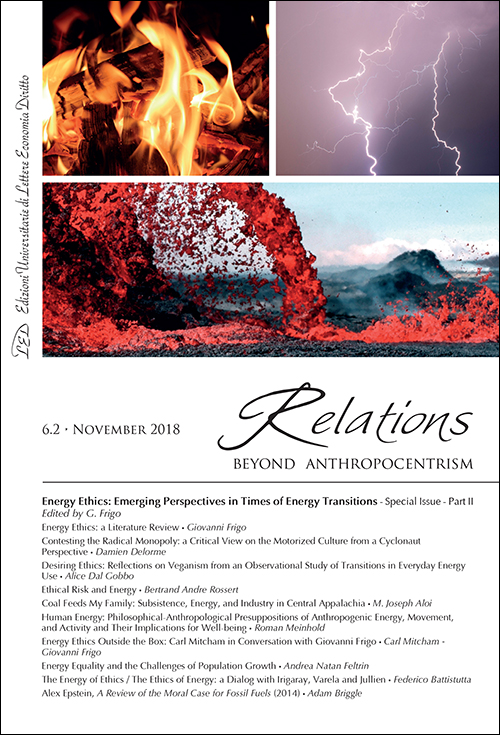 Cover:
1. Anonymous, Fire (Creative Common 0)
Source: https://www.pexels.com/photo/barbecue-blaze-bonfire-burn-220129/
2. Elijah Hiett, Lightning strikes under cloudy storm, California, USA
Source: https://unsplash.com/photos/XLuUCA1NGa4
3. J.D. Griggs. A Pahoeoe lava fountain, Kı¯lauea Volcano, Hawaiian Islands, USA
Source: https://pubs.usgs.gov/dds/dds-80/
(see also: https://en.wikipedia.org/wiki/File:Pahoeoe_fountain_original.jpg)